MOBY stretch wrap review:
Company's website:
http://www.mobywrap.com/mw/Home.htm
*I bought a Moby wrap when my first son was about a month old. And have also used it with my second son from week 1 and on.*
A MOBY wrap is a soft, stretchy wrap made from 100% cotton knit fabric. It retails at around $50 and can be found online, as well as a few registered stores such as Target. It comes in many colors and designs and is very soft, even straight from the packaging. The Moby has tapered ends, allowing for small knots and easy tying.
And as with all stretchy wraps, the Moby allows for the wrap to be pre-tied so you can slip the baby in and out as needed, making grocery shopping and quick runs easy and hassle free!
AS A SIDE NOTE: This specific fabric when washed will shrink up a bit, but a few times of wearing it will stretch it back out-- so don't be too worried when you pull it out of the washing machine and it seems shorter for some reason! :)
I loved my Moby. It was my first experience with learning the in's and out's of wrapping, and it was so snuggly with both of my babies' early days.
The product labels quote it being for babies 8 to 35 lbs. I think it wears very comfortably the younger they are. I found with my first son, that once he hit about five months old, he wanted his arms out and was quite a leaner. For me, that meant that the stretch of the wrap couldn't hold him in under the pressure of his pushing. So our carries became increasingly harder to keep tight... The stretch of the fabric allowed it to sag after a short period of time. So I would have to say its less important what the weight of your baby is, but instead how active he/she is. My son was about 17lbs when he was able to sit independently and therefore wiggle, squirm and push against me to lean backwards, making the Moby wrap no longer a good option for us. But I found it very comfortable up until that point. And my second son is already 15 lbs, but still very comfortable in the Moby.
Just for thoroughness of review, I recently wrapped my 24lb 14 month old in the Moby to see how it held up. I pre-wrapped a good old fashoned Front Wrap Cross Carry (FWCC) and stuck him in. It was surprisingly comfortable, all things considering. While he was cuddled up to me to snuggle, it held him in place and was fairly easy on the shoulders (he was only up for 20 minutes or so, though). I comfortably wore him like that for a good 15 minutes to take some selfy pics and snuggle him before he started throwing himself backward and straightening his legs... And it didn't take long for the wrap to come off after that! So I'm still sticking to my initial thought that it isn't so much weight as it is activity. :)
Here is a picture of Bug in a FWCC with our Moby: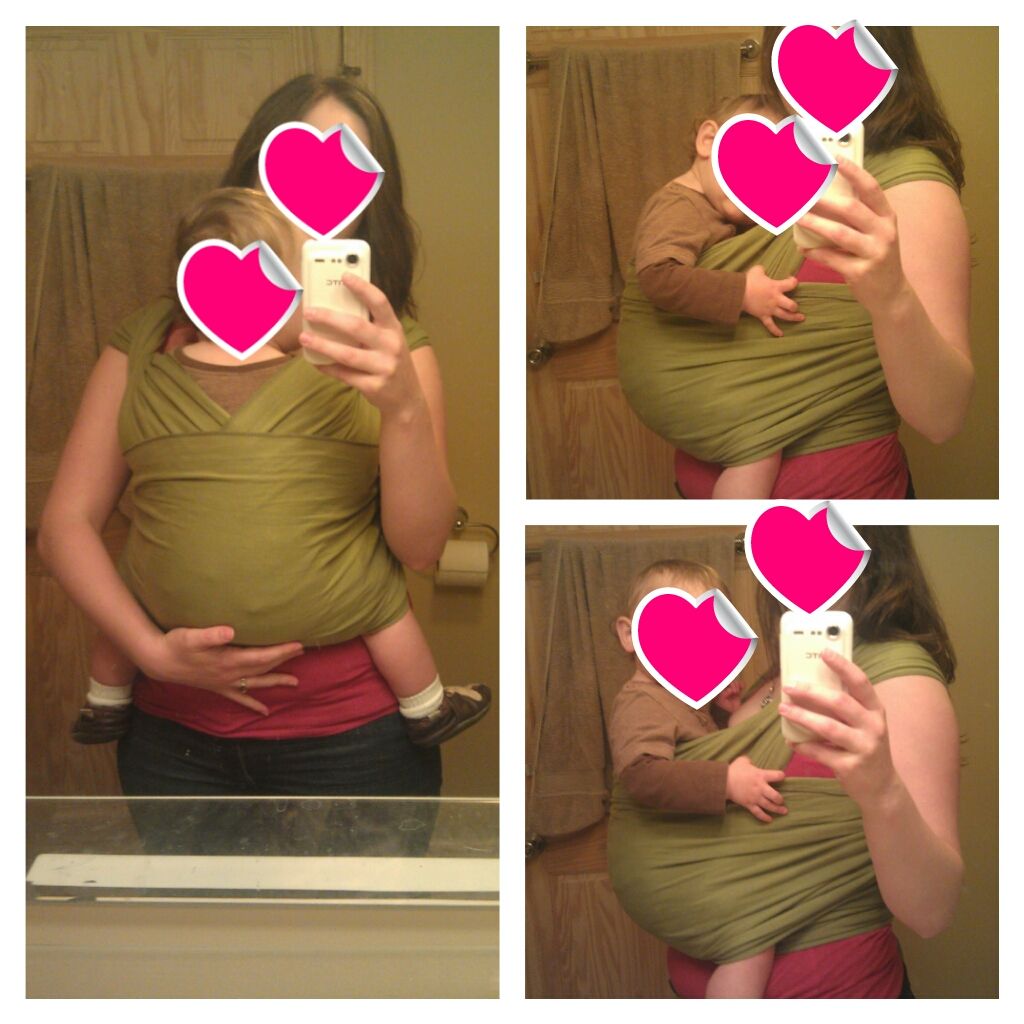 That being said, it is a wonderful choice for the newborn/young infant stage! MOBY encourages kangaroo time (skin on skin) for growth and development of infants of all ages -- and the Moby wrap is perfect for skin on skin opportunities. It's like a soft comfy tee-shirt that covers you modestly and keeps your baby snug and secure. I know of many moms who bring their Mobys to their hospital/NICU stays for the ability to wrap their precious new babies skin on skin! (Of course, consult your doctor about the use of a Moby wrap with babies under 8lbs and for premature babies before use).
As for the climate question, the Moby, being knit cotton, DOES get hot in warm weather. I live in Minnesota where, at the heart of summer, the temp averages in the high 80's, low to mid 90's. Once that thermometer reads any humidity, you won't want to grab for the Moby wrap! So keep that in mind, for those of you that are in warmer (and especially humid!) climates.
The Moby will come with an instructional booklet with ways to wrap your new piece of fabric. But please keep in mind that stretch wraps are NOT safe for back carries. They have too much give and your baby could end up getting too loose and fall out or sag too low. **Please do no put your baby on your back with a Moby wrap!!**
For safe and comfortable back carries, look into woven or gauze wraps.
Overall, I think that the Moby wrap is a great tool for babywearing and especially a good starter carrier. For moms on a budget, a DIY (do it yourself) stretchy wrap is always a good option for any that don't want to put the $$ into something they aren't sure about. A good tutorial for a DIY stetch wrap can be found on numerous mom blogs. But buying jersey knit cotton material (you'll need about 6 yards, 30" - 35" inches wide) would be your best bet. And with jersey cotton, you won't need to hem it (you can for cosmetic purposes, if you wish) because the raw ends will roll, but they won't fray. And that's all there is to it!
Or if you aren't into the DIY scene, but want a cheaper alternative, a used Moby wrap usually goes for $10 to $15 and can be found on many babywearing swap boards or your local Craigslist. :)
Happy babywearing